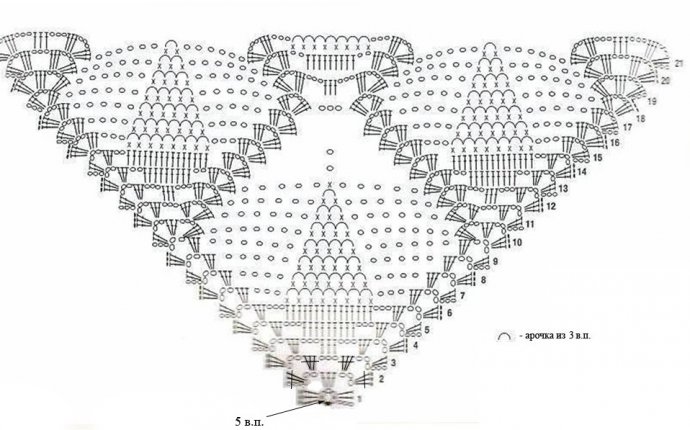 Blade Pattern
The gentle shawl is beautifully shaking shoulders and, at first glance, fascinating the ease of the buckle and the filygrant arson of the rumbs. Of course, that thing should be in every woman and girl's harbor.
Size: 54 cm x 208 cm
You'll need 200 g of the blue melange buckle Lace Lux (67% viscose, 33% sheep, 310 m/50 g). Species No. 4, 5.
Platoon: faces and faces. c.
Surveillance: number of hinges per brief 16. Under this scheme:
It contains only individuals, p., in the air, all the hinges and oxids are tied out, and in two out-of-a-half cases. Repeat therapport from 1st to 28th.
Screening (primary 13 p.):
There are faces on the scheme. Lift between the edge, the designated loops and repeat from the 1st to the 14th.
Boundary density: Accommodation and plating (average): 19 p. and 24.5 p. = 10 x 10 cm. Plant Surveillance: 18.5 p. and 27 p. = 10 x 10 cm.
Speech description: Set 102 p. and tie 3 p.m., 96 p. a.m., 3 p. of a handkerchief. In 194 cm = 476 p. from the hinge edge, all hinges are closed. For two, pick up 13 p.m., tie 62 cm = 168 p.m. to the plank unit and close all the hinges. Put the charts on the left side edge to the intake and closed edges of the shell, with the stacks a little bit.